The Impact Multiplier Effect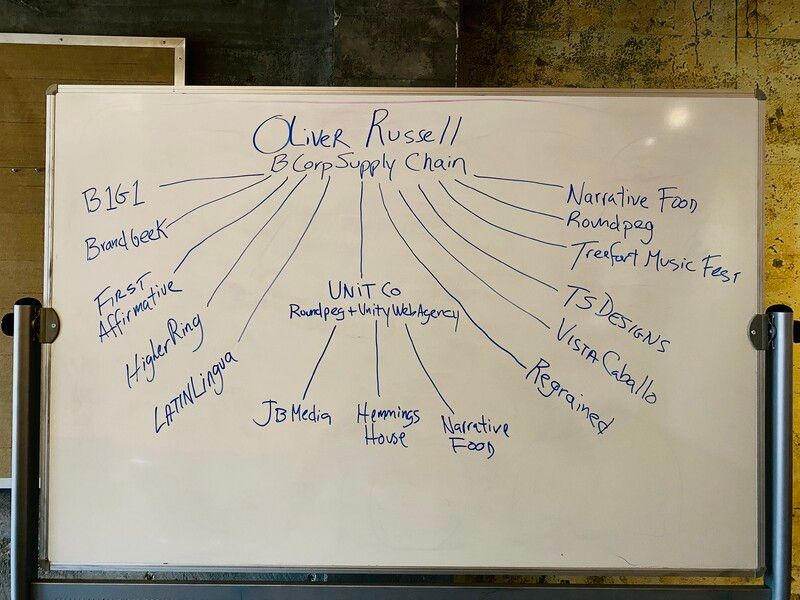 When I was college (long ago in a galaxy faraway) I graduated one class short of a double major, coming oh so close to adding economics to my English degree. (The idea of working through an econometrics class that last spring semester was a bit daunting for a guy who loved to enjoy himself.) I loved Econ and have retained concepts that that are touchstones for me still. Today, I'll talk about the economic multiplier effect, specifically the idea that impact that is catalyzed by values-aligned businesses spending money with like-minded businesses.
(Wait, wait - before you nod off on Professor Stoddard or click to something else, I promise this will be interesting.)
Simply, the multiplier effect holds that a magnification of an initial injection of spending can amplify and set off a chain reaction that results in more spending and economic activity as a result. Instead of a dollar ending up as just a dollar spent, the multiplier effect generates additional economic impact. It's sort of like the old expression, 1+1=3.
(Yes, you can also see a "decrease" in economic output, which is the way I like to metaphorically view spending money with companies behaving in ways detrimental to people and the planet.)
So often we hear about conscious consumers and their ability to influence markets by directing their purchasing to companies; less is said about the opportunity for companies to catalyze their impact by creating a beneficial supply chain where purchases are multiplied by spending with other values-aligned companies.
Just prior to the pandemic's appearance, I set about trying to consciously direct more of our purchasing to fellow B Corps – you can see them in the poorly hand-drawn whiteboard image at the top of this newsletter. I decided I wanted to catalyze a chain reaction and make our firm's resources go farther. I figure, roughly, that we spent approximately $62,000 with these B Corps over a 3-year period. Not a huge amount of money, though we also invested significant funds "beyond the B" in local businesses, socially responsible companies, and nonprofits.
Take that and apply a multiplier to it and you get, well, a bit of mathematical magic. In a 2002 study, it was estimated that the general multiplier effect for B2B companies was 1.6, which means our initial spend of $62,000 actually created $99,000 of downstream economic impact. And because that investment went to our B Corp sisters and brothers, it isn't too great a leap to see that our resources multiplied THEIR social and environmental impact in the world.
That's our little micro effect with our supply chain. Looked at another way, now zoom out to macro and extrapolate for the global B Corp community. If every B Corp spent $62,000 with other B Corps, it would create $687 million in economic impact applying that multiplier of 1.6. (As of today there are 6,941 B Corps in the world.)
So, have we sparked some thinking here, people? If you're looking for a truly inspirational take on the multiplier effect, check out this episode of the Freakonomics Radio podcast, Make Me a Match, which gets into the transformative power of the multiplier effect on, yes - kidney transplants.
If you own or run a social impact business, you can start by spending locally, always a good thing, and then overlay a filter of social and environmental impact to your suppliers and work your way from there. My hope for you as a creator of impact: Be fruitful and multiply.
Godspeed, friends.
Russ
---
Trivia Time
Ben & Jerry's periodically makes pop-up ice cream flavors to advocate for specific causes. Your assignment today: guess which of the flavors below is NOT a real Ben & Jerry's ice cream.
Peaceful Planet Pecan
Save Our Swirled
Empower Mint
Today's trivia answer can be found at the bottom of this newsletter.‌‌‌‌
---
Find the Most Meaningful Work of Your Career
Our partner One Work has you covered with meaningful work that goes beyond a paycheck, a cubicle, or a weekly team Zoom call. In this week's "Pass the Produce" edition, we're going all food and farm where y'll find purposeful jobs like those below, along with many more at the One Work website.
• MISFITS MARKET - An online grocer that provides organic and sustainable sourced products that reduce food waste and provide you with delicious eats, affordably. Sustainability Coordinator, REMOTE.
•  KING ARTHUR BAKING COMPANY - There's a job wafting and waiting for you at this B Corp that traces its history back more than two centuries.  Baking School Instructor, Norwich, VT.
• AVOCADO GREEN BRANDS - You'll sleep soundly with a meaningful job at this sustainable mattress, pillow, and bedding B Corp. Accounting Manager, Fullerton, CA.
Check out One Work's full roster of purposeful jobs with mission-driven companies and organizations.‌‌‌‌‌
---
‌Trivia Answer‌
If you guessed "Peaceful Planet Pecan," you guessed right - that one's never passed the lips of a Ben & Jerry's fan (though the company actually did create a "Pecan Resist" as a tribute to activism and resistance).
Save Our Swirled was created for a climate awareness and action campaign.
Empower Mint was a collab with the NAACP to support the fight against systemic racism and voter suppression.
---
Have an interesting social impact tool, idea, or trivia question you'd like to share? Reply to this newsletter and let me know - I'd love to hear about it. You can also hit me up at rstoddard@oliverrussell.com.
Also - please don't hesitate to forward this to a friend you think would benefit from it - thank you!