Showdown at the Climate Corral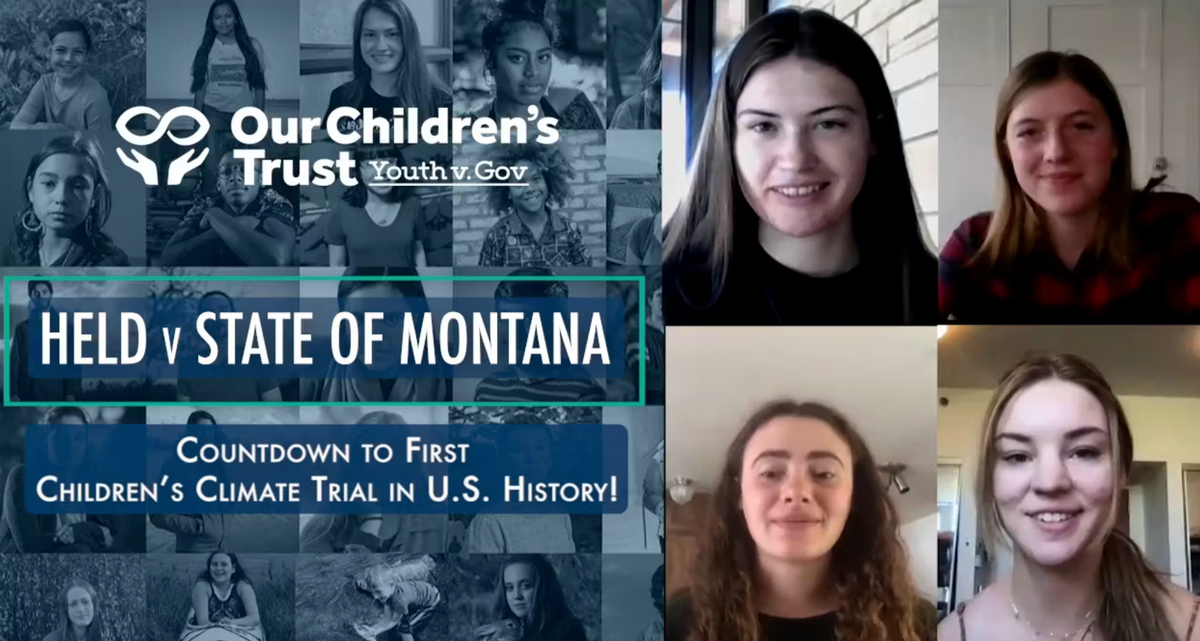 I've got my eyes 👀 on Montana – and the eyes of the nation (and world) should be on the Big Sky State as well.
This marks the second and final week of a landmark lawsuit brought against the State of Montana by 16 of its youth💪, the first-ever constitutional climate trial in the United States. In Held v. State of Montana, the youth are suing the State of Montana for not upholding its state constitution.
Previous climate lawsuits have often relied on the Public Trust Doctrine, a legal principal that holds certain natural resources are held in trust for public use. What's intriguing about this case is that the Public Trust Doctrine is buttressed by specific claims that the State is not upholding two sections of the Montana Constitution:
"All persons are born free and have certain inalienable rights. They include the rights to a clean and healthful environment."
"The state and each person shall maintain and improve a clean and healthful environment in Montana for present and future generations."
In particular, the State is being challenged for its support of the fossil fuels industry.
Held v. State of Montana is also introducing and testing attribution science, a relatively new field of scientific study that attempts to attach extreme weather events to man-made climate change.
The plaintiffs aren't seeking financial redress; rather, they are asking that the state's fossil fuel energy policies and actions be found as violating the constitutional rights of Montana's youth.
If the court rules in favor of the youth, this precedent could have significant impacts on climate action far beyond the Big Sky State.
The lawsuit is brought on behalf of the youth by Our Children's Trust, the Western Environmental Law Center, and McGarvey Law. (I just donated to Our Children's Trust. It, along with the Western Environmental Law Center, are both 501(c)3 non-profit law firms – and yes, if you are a 1% for the Planet member, both groups are approved partners so your contribution counts toward your 1% giving.)
If you're looking for a good overall listen on the case, try The Daily podcast from the New York Times.
And if you've got the time and flexibility, you can watch the trial this week on this live web link.
🙏 Thanks go to the 16 brave Montana youth and their legal advocates for taking on this climate fight. They are getting their day in court; let's hope for all of us that it has a positive outcome.
Godspeed, friends.
Russ
---
Quick Hits
A cool way to fight climate change - Buy carbon offsets from B Corp Tradewater, which collects and destroys harmful refrigerants - 10,000 times more potent than carbon dioxide - before they are released into the atmosphere.
There's no place like home - Last week's trivia question was about Ben & Jerry's and its special flavors promoting causes. And what do you know - this week they released another one for International Refugee Week, Sunny Honey Home, created in a collaboration with eight refugee entrepreneurs and ally organizations. Inspired by the flavors of Morocco, Afghanistan, and Syria, proceeds will fund refugee-led startup businesses.
Head in the Clouds - Love clouds? Check out the Cloud Appreciation Society, my absolute favorite membership.
---
Trivia Time
Today is World Refugee Day, so designated by the United Nations to honor the more than 108 million people displaced around the world. Which of the following countries hosts the most refugees?
Germany
Iran
Turkey
Colombia
Today's trivia answer can be found at the bottom of this newsletter.‌‌‌‌
---
Find the Most Meaningful Work of Your Career
Our partner One Work has you covered with meaningful work that goes beyond a paycheck, a cubicle, or a weekly team Zoom call. In this week's "Greener Grasses" edition, you'll find purposeful jobs like those below, along with many more at the One Work website.
• PROJECT CANARY - Join a dog-friendly company that uses its technology to track greenhouse emissions from energy infrastructure and monitor carbon capture. Bonus points for cool homepage! Director of Product Marketing, Denver, CO.
•  SENSIBA - An interesting name for an accounting and consulting firm, accountants being pretty notable for being sensible. Lots of volunteering and community engagement opportunities here.  Career Coach, REMOTE.
• BRAND IQ - A brand strategy and research B Corp that helps social impact companies find the insights they need to succeed. Director of Market Research and Brand Strategy, Los Angeles, CA.
Check out One Work's full roster of purposeful jobs with mission-driven companies and organizations.‌‌‌‌‌
---
‌Trivia Answer‌
Turkey hosts the most refugees with 3.6 million. It is followed by the Islamic Republic of Iran (3.4 million), Colombia (2.5 million), and Germany (2.1 million). You can find more information and statistics about the world's refugees at the United Nations Refugee Agency. And while you're at it, check out and support a refugee event in your community today!
---
Have an interesting social impact tool, idea, or trivia question you'd like to share? Reply to this newsletter and let me know - I'd love to hear about it. You can also hit me up at rstoddard@oliverrussell.com.
Also - please don't hesitate to forward this to a friend you think would benefit from it - thank you!