Inspiration Edition: Your Journey of Social Impact
We're going all-in on inspiration this week with reads inspired by, well, inspirational people. Why? Because the road to success as a social entrepreneur is long, filled with potholes and twisting turns - and everyone on this journey of impact benefits from inspirational examples as critical fuel for the work ahead. Oh, there's a poem, too, not written about you, but dedicated to you - by me. (Don't let the poetry throw you off - it's short <less than a minute> and totally worth it.)
If YOU have any inspirational stories (or poems 😉), please send them my way as I'd love to share them in future issues. We're all in this together!
And don't forget - the commenting feature is turned on for all. So turn ME on and let us know you're out there by sharing your brilliance with our growing community.
Godspeed, friends.
Russ‌
---
Cool Tool
• Creating your company's purpose and need process + inspiration? Check out the Purpose Discovery Roadmap from our friends at B Corp Roundpeg. It's a great wayfinding tool to help you and your team create a killer corporate purpose for your journey of social impact.
---
Inspirational Reads
• Where the sidewalk ends. I fell in love with the self-proclaimed rednecks who are bootstrapping a mutual aid auto repair shop in Alabama. Absolutely fantastic writing, too. Read more.
• Inspiration AND perspiration. What's an Olympic track and field athlete have in common with social entrepreneurs? In case you missed this essay last week, here's another chance to read "The High Bar of Social Entrepreneurship."
• How a small favor to deliver a violin turned into so much more. I read this in the Morning Brew and thought, that's interesting - though I'll never read it - and then I clicked on it. And read it. Glad I did - you will be, too. Read more.
---
We See You
A Tuesday thread for you. While this poem probably wasn't written with social entrepreneurs in mind, we think it aptly and poignantly applies to the people working to create a better world through the business of social and environmental impact. ‌Keep following that thread, friends.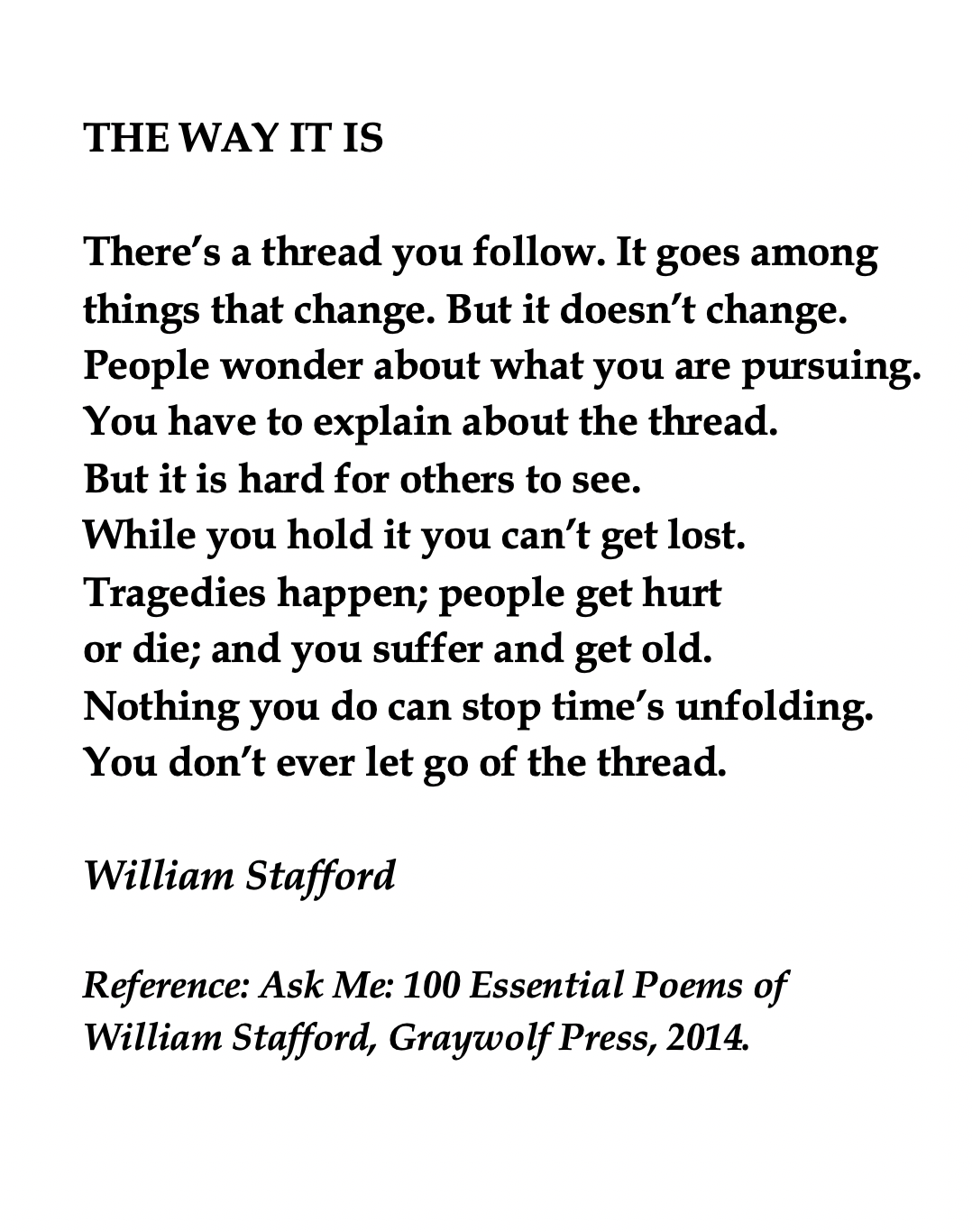 ---
Trivia Time
Who coined the sustainability term, "Triple Bottom Line," which stands for People, Planet, and Profit?
• Yvon Chouinard
• John Elkington
• Carol Cone
Today's trivia answer can be found at the bottom of this newsletter.‌‌
---
Find the Most Meaningful Work of Your Career
Our partner One Work has you covered with meaningful work that goes beyond a paycheck, a cubicle, or a weekly team Zoom call. This week, the focus is on employment opportunities in environmental justice. (Note - there are more job opportunities for these three companies on the One Work website.)
• RESONANT ENERGY- Build local power! Resonant partners with local nonprofits, builders, and communities to expand solar access for environmental justice communities. Project Manager, Boston, MA.
•  ALLBIRDS - Fly baby, fly! Allbirds is at the forefront of carbon-neutral footwear and apparel with a goal of becoming carbon positive. Senior Manager, Global Tax, Albany, CA.
• EILEEN FISHER - Where fashion meets impact! B Corp and pioneering fashion entrepreneur Eileen Fisher sells new AND used clothing, giving clothes a second life as a used product or repurposing them into wall art. Junior Graphic Designer, Irvington, NY.
There's more! Check out One Work's full roster of purposeful jobs with mission-driven companies and organizations.‌‌‌
---
Trivia Answer‌
John Elkington gave birth to the pithy and alliterative management concept of Triple Bottom Line in 1994. The original idea of triple bottom line (aka Three P's, 3BL, and TBL) came to influence businesses to track and manage economic, social, and environmental value added or destroyed.
Yvon Chouinard, as you may know, is the founder of Patagonia, and while he is responsible for many impact innovations, this term is not one of them.
Carol Cone is a pioneering female entrepreneur and an influential voice in the world of corporate social responsibility and the purpose movement.
---
Have an interesting social impact tool, idea, or trivia question you'd like to share? Reply to this newsletter and let me know - I'd love to hear about it. You can also hit me up at rstoddard@oliverrussell.com.
Also - please don't hesitate to forward this to a friend you think would benefit from it - thank you!