Power to the People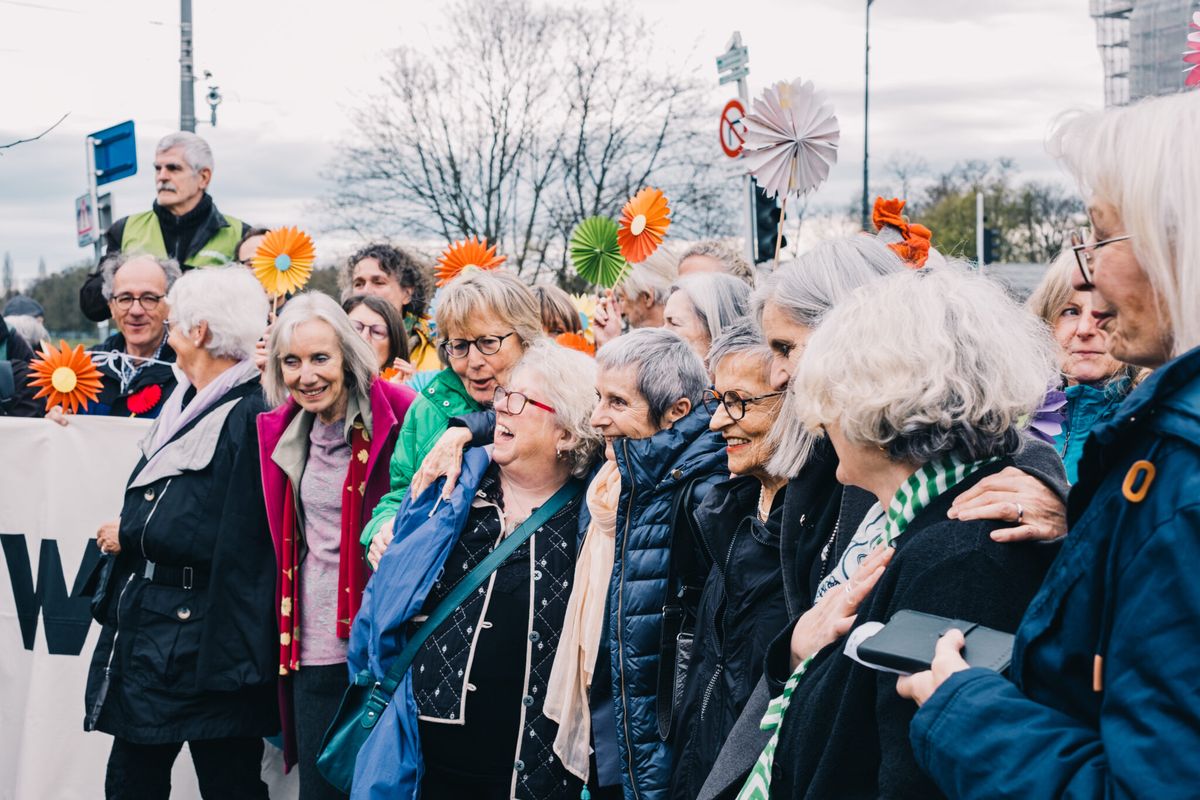 Governments around the world are getting it from both ends – call it a "generational sandwich" – as youngsters and elders take them to task (and court) over culpability for the negative health consequences of climate change.
A group of 14 children in Hawai'i recently brought suit against the state's transportation department over climate change, charging its operation of a transportation system emitting high levels of carbon violates their constitutional rights to "live healthful lives in Hawaiʻi now and into the future." This follows a similar lawsuit filed by youth in Montana that went to trial earlier this summer (and about which we wrote here, Showdown at the Climate Corral). The lawsuit in Hawai'i is scheduled to go to trial next year; the Montana trial has concluded and a ruling in the case is under consideration by the judge.
Over in Switzerland, a group of 2,400 women over the age of 64 organized as KlimaSeniorinnen Schwiez (Climate Seniors Switzerland) is pursuing a lawsuit against the government of Switzerland before the European Court of Human Rights. They are suing the government for violating their human rights on the basis that high temperatures and heat waves are threatening the health and lives of senior citizens, especially women over the age of 75 who are especially vulnerable to these climate effects.
While many of our elected leaders have played the proverbial monkeys on climate change 🙈🙉, perhaps it will be the power of the people via the cudgel of the courts that force our governments to finally take substantive action.
I'll end with a plug for Our Children's Trust, which is providing legal counsel to the youth plaintiffs in Montana and Hawai'i. It is the world's only nonprofit law firm representing young people and their legal right to a safe climate. Now how's that for some seriously tight brand positioning! You can participate from afar in these cases by lending your support and donating here.
Godspeed, friends.
Russ
---
Quick Hits
A war of words - With the backlash against what's being labeled, "woke capitalism," ESG seems like it could use a change of language. Sustainability anyone?
The climate for sustainability could cool in 2025 - A group propelled by the Heritage Foundation is planning to roll back governmental climate initiatives if Republicans retake the White House.
We passed the century mark - Nick Marks joined the Godspeed community as our 100th member. We're told the century mark is the first big benchmark in building a newsletter business, so thank you, Nick! BTW: Nick is the founder of a social enterprise in the United Kingdom called Pie Factory, a certified B Corp that inspires through the experiential; it designs some seriously creative impact experiences for brands. I'm especially taken with their floating meadow to celebrate the Queen's Platinum Jubilee while amplifying the importance of biodiversity for the Burberry brand. Grab yourself a slice of pie here.
---
Trivia Time
🔥 If wildfires globally were a country, where would this country of flame and smoke rank among the world's leading carbon emitters?
•  1st
•  4th
• 12th
• 15th
Today's trivia answer can be found at the bottom of this newsletter.‌‌‌‌
---
‌Find the Most Meaningful Work of Your Career
Our partner One Work has you covered with meaningful work that goes beyond a paycheck, a cubicle, or a weekly team Zoom call. In this week's "Giving Employees a Voice In Social Impact" edition, you'll find purposeful jobs like those below, along with many more at the One Work website.
• SUBMITTABLE - Is it finally time to submit to the forces for good? Always wanted to find your dream Yellowstone life in the Big Sky State? Then perhaps this job's for you - Submittable is a social impact platform that enables organizations to set up and track their social impact programs. Customer Success Manager, Missoula, MT or Bellevue, WA.
•  FIRECLAY TILE - Looking to get all fired up about going to work each day? This certified B Corp manufactures absolutely beautiful tile, all made by hand, and it backs up its impact with one of the highest B Corp scores on the planet.  Decorative Production Manager, Aromas, CA.
• THE FRUIT GUYS - How can you resist a company with a name like this? The Fruit Guys deliver fresh fruit to offices and homes, while donating 20% of their profits to fighting hunger and supporting sustainable agriculture. Hey, they're a B Corp, too. Content Marketing Specialist, REMOTE.
Check out One Work's full roster of purposeful jobs with mission-driven companies and organizations.‌‌‌‌‌
---
Trivia Answer‌
While wildfires recognize no boundaries, if they were a country they would rank fourth globally among the world's carbon emitters, following China, U.S.A., and India.
---
Have an interesting social impact tool, idea, or trivia question you'd like to share? Reply to this newsletter and let me know - I'd love to hear about it. You can also hit me up at rstoddard@oliverrussell.com.
Also - please don't hesitate to forward this to a friend you think would benefit from it - thank you!