The Rights of Rivers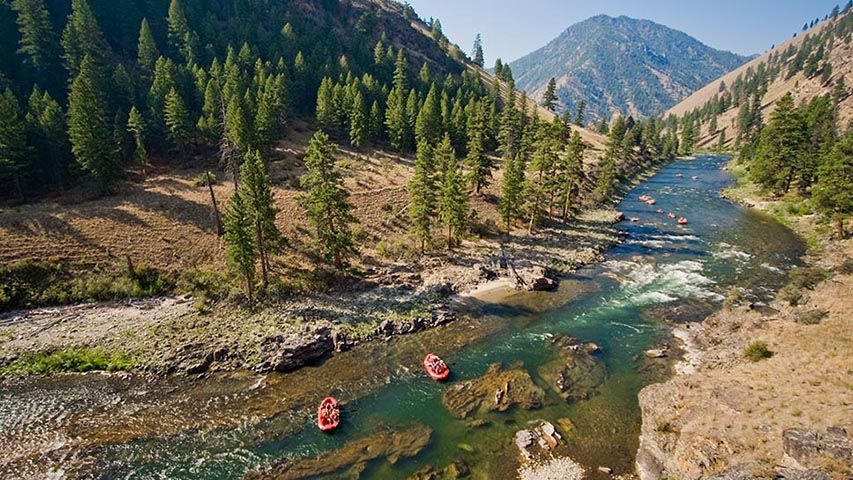 Do you think of forests or wetlands as having rights similar to humans? Should a salmon have a right to a stream and a legal standing in a court of law?
There's a movement bubbling around the world to confer legal standing to rivers and other natural objects in a similar vein to human rights. Called "Rights of Nature," this concept holds that nature is no longer a resource and the exclusive property of humankind, but an independent legal entity with its own set of fundamental rights.
It's not a new idea - the concept was first voiced in 1972 in a law review paper by a professor at the University of Southern California. In recent decades, different expressions of Rights of Nature have gained traction around the world.
Ecuador has added legal provisions for natural objects in its country's constitution, and countries from New Zealand to Bangladesh have similar laws on the books. India has bestowed rights to the Ganges River, and the City of Seattle recently recognized in a legal agreement that salmon have the right to pass through the city's dams.
Giving ecosystems and animal species rights challenges our dominion over the planet; it could potentially stop a mine that threatens their existence, change the way and where we farm, and alter human development of natural resources in many ways. I think it's a smart and foundational way to look at protecting our planet, certainly not without messiness and further refinement, but as a path forward that moves us closer to aligning human-made law with the laws of nature.
I'm thinking about taking a deeper dive into this movement in the future - would that be of interest to you?
In a bit of personal news, next week I'll be in Portland, Oregon, at the BLD PNW Conference on June 1 co-hosting a workshop on "Charting the Way: Impact Mapmaking and Reporting Workshop." If you happen to be attending, please be sure to say hi.
From here in the world of human and natural rights - Godspeed, friends.
Russ
---
Cool Tool
• Does your company support employee activism? Here's an open-source resource from our friends at B Corp Wholegrain Digital. It's a blueprint for a company policy on employee activism - a code of conduct that lays out how Wholegrain will support the activism of employees, along with the obligations for employees that participate in social or environmental activism.
---
Quick Hit: Inspiration
• I know, what does music have to do with social enterprise? Everything and nothing, right? I say it's the inspiration that gives us the fortitude to take another step forward on a hard day or the energy source that moves us to action. So go ahead, I dare you: Click on this. I found this act of musical genius by Fred Again to be amazingly inspirational – happy Tuesday to you. It gave me chills and gifted me a state of wonderment. I hope you have a moment today to experience the same.
---
Trivia Time
What is the name of the agreement signed by almost all countries in the world to combat climate change?
A) Paris Agreement
B) Kyoto Protocol
C) Montreal Protocol
D) Vienna Convention
Today's trivia answer can be found at the bottom of this newsletter.‌‌‌
---
Find the Most Meaningful Work of Your Career
Our partner One Work has you covered with meaningful work that goes beyond a paycheck, a cubicle, or a weekly team Zoom call. This week, you can celebrate diversity at work, braid your way toward carbon neutrality, or advocate for positive change - all while putting your talents to work for good.
• THESIS - A full-service digital agency with a bunch of ERGs - employee resource groups - that celebrate diversity and connection at work. Group Director, Portland, OR.
•  PROSE - A personalized hair care brand that's big on creating social and environmental impact through its donation program and carbon offsetting with an eye toward carbon neutrality. Product Manager, Acquisition, Brooklyn, NY.
• RALLY - Count beans and raise your voice for positive change at this strategic communications firm that creates impact through its deep advocacy efforts.  Staff Accountant, Austin, TX.
Check out One Work's full roster of purposeful jobs with mission-driven companies and organizations.‌‌‌‌
---
‌Trivia Answer‌
Were you thinking somewhere in the neighborhood of the Eiffel Tower? If so, you're right - the correct answer is the Paris Agreement, which was signed in 2015 and aims to limit global warming to 1.5 degrees Celsius above pre-industrial levels.
---
Have an interesting social impact tool, idea, or trivia question you'd like to share? Reply to this newsletter and let me know - I'd love to hear about it. You can also hit me up at rstoddard@oliverrussell.com.
Also - please don't hesitate to forward this to a friend you think would benefit from it - thank you!