Leverage Your LinkedIn for Good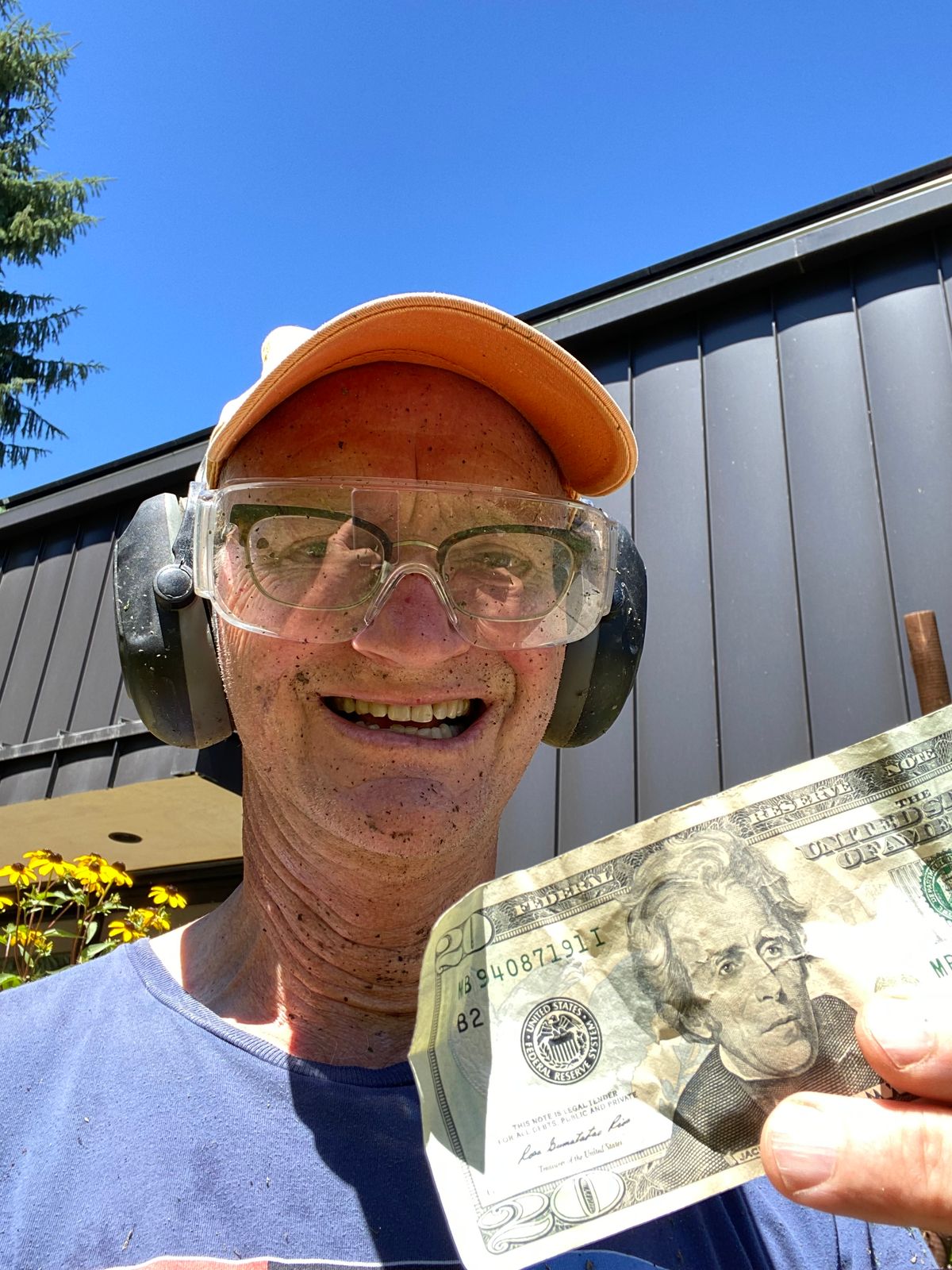 There's a lot of good that goes on with LinkedIn – never mind the superficial connection requests and the irrelevant InMails – and I'd like to share some ways I've found to make the experience even better.
I've always tried to use my LinkedIn feed as a platform for giving. I occasionally post something very simple along the lines of, "How can I help you today?" You'd be amazed at the responses this gets – and the opportunities to be of service to others.
I've consoled people in a state of loss, have directly helped those without work find a new job, and one time even sparked a chain of events that led to a jet being chartered to evacuate 395 individuals (150 of them kids) out of Afghanistan when the Taliban took over the country. Now THAT was cool!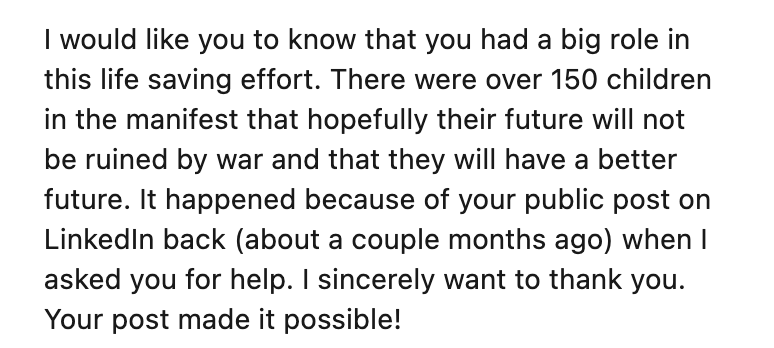 Last week I decided to conduct an experiment, this time a crowdsourcing opportunity for LinkedIn. Here's how that came about.
I was weed whacking my 80-year-old neighbor Darlene's irrigation ditch when she came out and tried to put $20 in my hand. "Here, please take this," she said. "No thank you," I replied. "You must take it, she responded. "I can't," I said. As you can tell, Darlene is a very persistent woman!

This went back and forth before I finally said, "Tell you what, why don't you give that to your favorite nonprofit." To which she countered: "Why don't YOU give it to your favorite nonprofit." Okay, yes, it took me this long to be gracious enough to accept her offering.
That's when I decided to experiment with LinkedIn. I posted the story about Darlene and asked people if they would join me in matching her $20. We'd see how many people wanted to participate and would solicit suggestions for worthy nonprofits to benefit from our little experiment.
Well, it worked out better than I thought it could have.
- We multiplied Darlene's $20 into approximately $1,390 contributed by 65 people. I say "approximately" because commitments keep dribbling in – one even as I was writing this – and several have told me they ended up donating more than $20.
- Sentiment for donations to Maui was high in the aftermath of the wildfire catastrophe, as was the pull for local nonprofits in Darlene's vicinity – that'd be Boise, Idaho. I put all the nominated nonprofits into an online random drawing generator to select beneficiaries of the proceeds, and we split them 50/50 between the Hawaii Red Cross and the Boise Period Project, the latter gathers menstrual products to create free period packs for those experiencing period poverty.
- The original post generated 111 likes, 159 comments, 15 reposts and garnered more than 8,000 views.
And here are some things I learned:
- LinkedIn is not built for crowdsourcing – duh! 🤦‍♂️ I had to be a sleuth to catalog all the donation commitments, which got challenging when someone said they'd pitch in via a reply to a reply on a comment. I'm still hoping I got everyone.
- I quickly realized I needed to build a spreadsheet to track everything. Some people raised their hands to contribute directly to the nonprofits and others made deposits to my Venmo. Cash was left on my office desk, and a check came in the mail. So, it took some work to keep track of it all.
- LinkedIn's algorithms are, well – funky. I tagged a friend in a comment early in the three-day campaign as he is deeply connected in the nonprofit community, and I thought he find interest in it. LinkedIn served it up to him on four days later, after I'd stopped actively promoting the campaign. Thanks, Tim Lockie, for sharing it with your people anyway – several have committed to donating.
- Next time I might try a crowdsourcing platform and tightly integrate it with the LinkedIn community – perhaps posting the story and then DM'ing those who liked or commented on it and pointing them to the crowdsourcing site. Of course, there's something clean and authentic about keeping it native to LinkedIn.
So, I'd say the experiment was a hit. I made some new friends and provided a positive way for people to put their best foot forward by helping others – someone in Maui in need of a hot meal will now receive one and here in Boise a woman will receive a period pack.
It was a lot of fun, too. As one contributor, Tara Wolfson, said, "This gives me energy." Me, too, Tara – me, too. That's exactly what I get from leveraging LinkedIn as a platform for good: energy for the good work that needs to be done.
And I can't wait to see Darlene's face when I tell her what happened to her $20.
Godspeed, friends.
Russ
P.S. If you'd like to kick in to this experiment, you can donate directly to Red Cross Hawaii, the Boise Period Project, or any nonprofit that's out there on the front lines doing good work. 💪
---
Trivia Time
Another experiment - since the trivia section isn't interactive (nothing for you to click), I have no way of gauging whether you're engaging with it or not - so the experiment is no trivia this issue. If you miss it, please let me know by using the comment feature. 🙏
---
‌Find the Most Meaningful Work of Your Career
Our partner One Work has you covered with meaningful work that goes beyond a paycheck, a cubicle, or a weekly team Zoom call. In this week's "Keeping social impact impactful" edition, you'll find purposeful jobs like those below, along with many more at the One Work website.
• B LAB - Work for the certification mothership of the B Corp movement, the nonprofit overseeing the B Impact Assessment and much more. Complaints & Investigation Manager – Denver, CO, New York, NY or Philadelphia, PA at start of employment, then remote.
•  GOOD PARTY - Who can resist an organization with a name like this? Good Party builds tools to help independent candidates get traction within a two-party system.  Field and Politics Intern, REMOTE.
• ATTICUS - Another great brand name! Join this law firm that offers free legal advice about disability benefits, worker's comp, and injury cases.  Senior Content Marketing Strategist, REMOTE.
Check out One Work's full roster of purposeful jobs with mission-driven companies and organizations.‌‌‌‌‌
---
Have an interesting social impact tool, idea, or trivia question you'd like to share? Reply to this newsletter and let me know - I'd love to hear about it. You can also hit me up at rstoddard@oliverrussell.com.
Also - please don't hesitate to forward this to a friend you think would benefit from it - thank you!