The Three C's: Climate, Conservation, Community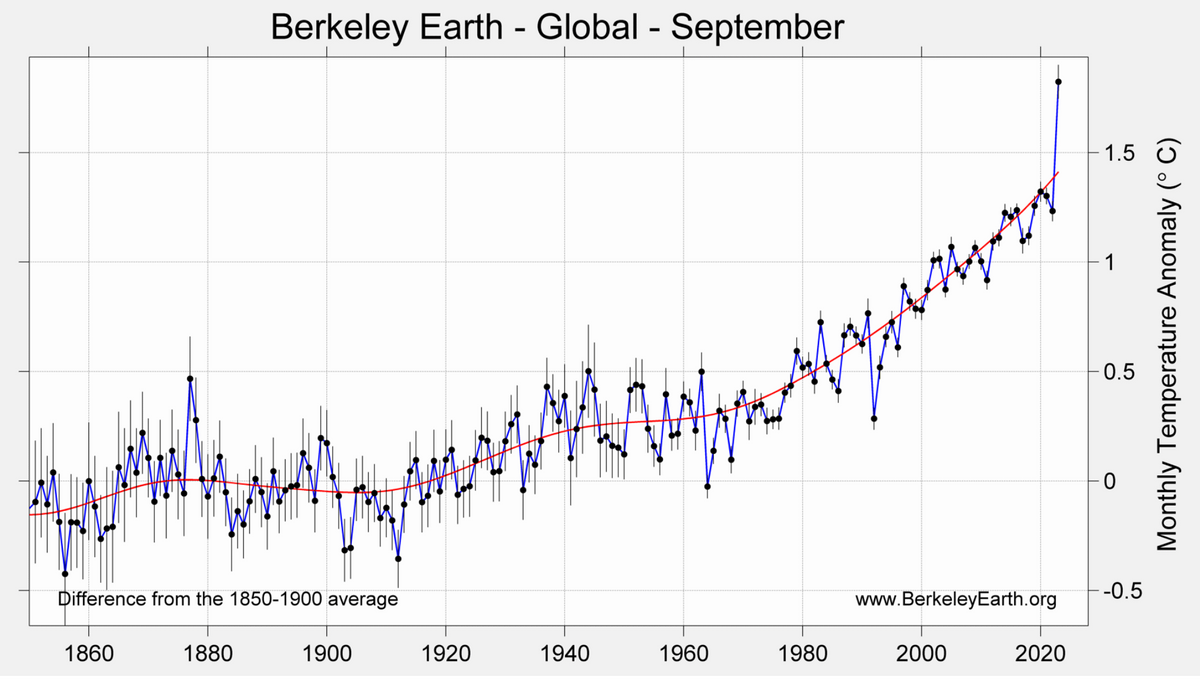 As a small-scale farmer, I thought September felt weirdly warm. Tomatoes ripened on the vine beyond the normal time frame - and they're still ripening in mid-October. Peaches and pears clung to tree branches overly long - though they're all harvested and preserved in Mason jars by now. When I turned compost piles, typically with the relief of milder autumn temperatures, it turned into a sweat fest as the thermometer climbed well into the 90s.
You can see how September sizzled in the temperature chart above - freakishly hot indeed with an ugly spike beyond the usual September and what's becoming the platitude of "hottest month on record." You can take the temperature of September 2023 via Berkeley Earth.
And yet the beat of climate talk goes on, a verbal war of incrementalism that seems ill-fit to the challenge.
So I was struck (and encouraged) by a recent article in the Los Angeles Times about a critical collaboration in California among solar developers, conservationists, and local communities.
The story documented an agreement that honors three C's: climate, conservation, and community. The bottom line is that it will dramatically speed the vital development of large-scale solar development, while striving to protect wild life and wild vistas and investing financial resources in affected local communities.
We could say it's a win-win-win, but I think it's probably more about how a wee bit of loss-loss-loss can add up to a big win by embracing the unspoken 4th C in the equation, one that's been downgraded from an art to a pejorative: compromise.
The climate is now changing at a frightening pace (see hockey stick of September's temperature). If we want to address this crisis, we'll need to compromise in order to achieve the velocity of change required. This seems like something entrepreneurs are especially suited for – accustomed to negotiating (aka "compromise") and moving with a sense of decisive urgency when opportunity or challenge presents itself.
While compromise isn't necessarily comfortable, it's time we all get out of our comfort zones.
It ain't weakness. It's strength.
It ain't giving in. It's giving our all when we give up something for the greater good.
Hat's off to the solar developers, conservationists, and communities in California for modeling a blueprint that points the way.
Godspeed, friends.
Russ
---
💬 Quote of the Week
"It's not the strongest of the species that survive, nor the most intelligent, but the one most responsive to change." Charles Darwin
---
💥 Quick Hits
• A billionaire who gave it all away - An inspiring story of lives changed and a life led.
• The energy of artificial intelligence - As we reported in last week's issue, AI not only gulps lots of water, it's thirsty for juice (of the electrical kind) as well.
---
🤔 Trivia Time
How long is the average daily work commute by car in the United States?
17 miles
28 miles
41 miles
56 miles
‌Find the Most Meaningful Work of Your Career
Our partner One Work has you covered with meaningful work that goes beyond a paycheck, a cubicle, or a weekly team Zoom call. In this week's edition, you'll find purposeful jobs like those below, along with many more at the One Work website.
• DMARCIAN - If you're into fishing, but abhor phishing, perhaps it's time to join the globally distributed team at this B Corp, which works to protect organizational domains from phishing and other attacks. Digital marketing associate, REMOTE.
• ALLEYOOP - Not the comic strip of the 1930s, the song, or the sports play, but a cool beauty brand with sustainability at its core. (And what a fantastic brand name as well. Go ahead, say it: "Alleyoop." Wasn't that fun?) Social Media Manager, REMOTE.
• UNIT CO - Got serious coding chops you'd like to use for good by helping mobilize and mainstream the impact of small, main street businesses? Join this startup, founded by three B Corps, which is building Unit of Impact, the world's first platform dedicated to helping small businesses measure, manage, and share the story of their impact. Founding Engineer, REMOTE.
Check out One Work's full jobs board of purposeful jobs with mission-driven companies and organizations.‌‌‌‌‌
---
Trivia Answer‌
The average work commuter in the U.S. logs 41 miles there and back each day. That commute takes an average of 55 minutes, or a total drive time of nearly two weeks each year. It also contributes an average of more than 3 metric tonnes of CO2 to the atmosphere yearly, per driver.
---
Have an interesting social impact tool, idea, or trivia question you'd like to share? Reply to this newsletter and let me know - I'd love to hear about it. You can also hit me up at rstoddard@oliverrussell.com.
Also - please don't hesitate to forward this to a friend you think would benefit from it - thank you!