Measuring Our Social Impact
Welcome to Week Five of this grand experiment in newsletter writing. As one of the goals for this newsletter endeavor is to scale social impact - and we do that by getting our tools and experience in the hands (and minds) of subscribers - I'm sharing my member dashboard with you this morning.
In the past month, I've published four of these Tuesday newsletters, along with two longer essays on Thursdays.
We have 24 subscriptions for Godspeed. We've got one paid subscriber – thank you, Chuck! (And there's a special treat coming your way, and yes, I will hop on board the video train soon.) I'm told these things take time and at some point will gain momentum through consistency and character of quality content. We shall see.
At this pace there will be 250 +/- subscribers by the end of year, so we'll set that as a mark to meet or beat.
Mostly, I'm grateful to share my knowledge and experience and having the opportunity to see people interact with it. We're getting great engagement, which is encouraging. Open rates hover around 90% and clicks range from 15%-52%. I opened up the commenting feature to everyone last week and haven't seen anyone use that feature yet. (Hint, hint.)
So far, I've isolated promotion of the newsletter to LinkedIn and twitter. Seventeen members have come from LinkedIn, four via twitter, and the other three are organic. Last week I started syndicating Godspeed content to Medium, so we'll see what that yields. Later this week I'll begin sending emails to people I know, which should gain a member or two.
So that's your report from the front lines of the "creator economy." If this is of interest to you, this sharing of metrics, let me know – if so, I'll continue periodically, and if not, no big deal, I spare you with the details.
Godspeed, friends.
Russ
---
Cool Tool
• Looking to become a responsible brand? Check out this toolkit, a step-by-step, self-guided workshop to help your organization reach its highest calling. And following in the pioneering steps of the band Radiohead, the price for this toolkit is "pay what you want."
---
Quick Hits
• The Fallacy of Carbon Neutral Shipping. Paying a little extra at checkout to select carbon-neutral shipping for your online shopping might assuage your guilt - but as Katie Okamodo argues, it's not accomplishing what you'd hoped it would. Read more.
---
Just For Fun
A Sea of Cringe. Is LinkedIn truly a "sea of cringe"? This short video (worth it!) takes you for a cruise upon the sea of cringe to explain why the work world's social media platform of choice is so weird.
---
Trivia Time
Get out your scratch paper! Ready, set, go - Can you name at least 9 of the seventeen United Nations Sustainable Development Goals? Wait, what? You don't know what the Sustainable Development Goals are? Either way, you're in the game now!
Check your SDG knowledge at the bottom of this newsletter.‌
---
The Social Impact of Artificial Intelligence
Didn't get a chance last week to read my deep dive on the social impact of artificial intelligence? That's okay - I know you're busy! But if you DO find a few spare moments, you might be interested, and I'd love to hear what you think about the debate. Check it out here.
---
Find the Most Caffeinated, err, Meaningful Work of Your Career
Our partner One Work has you covered with meaningful work that goes beyond a paycheck, a cubicle, or a weekly team Zoom call. Here are some of this week's highlighted companies looking for purpose-driven talent. (Note - there are more job opportunities for these three companies on the One Work website.)
• STUMPTOWN COFFEE - a Certified B Corp with a unique approach to sourcing coffee beans – they work directly with the coffee farmers for years and pay them based on the quality of their product, not the commodity value. Senior Manager, Business Development - National Accounts/Food Service, Portland, OR or New York, NY.
•  BREW DR. KOMBUCHA - Another B Corp with a goal to become the world's most impactful kombucha brand. (Delicious, too, from personal experience - particularly enjoy the LOVE flavor.) Brand Manager, REMOTE.
• REGRAINED - It's a B Corp trifecta! We're big fans of B Corp Regrained, an upcycled foods pioneer. (We even invested in their Wefunder campaign.) Regrained transforms spent grain from breweries into all kinds of cool foods: pizza crusts, brownies, puffed snacks, and more.  Sales and Marketing Internship, Berkeley, CA.
There's more! Check out One Work's full roster of purposeful jobs with mission-driven companies and organizations.‌‌
---
Trivia Answer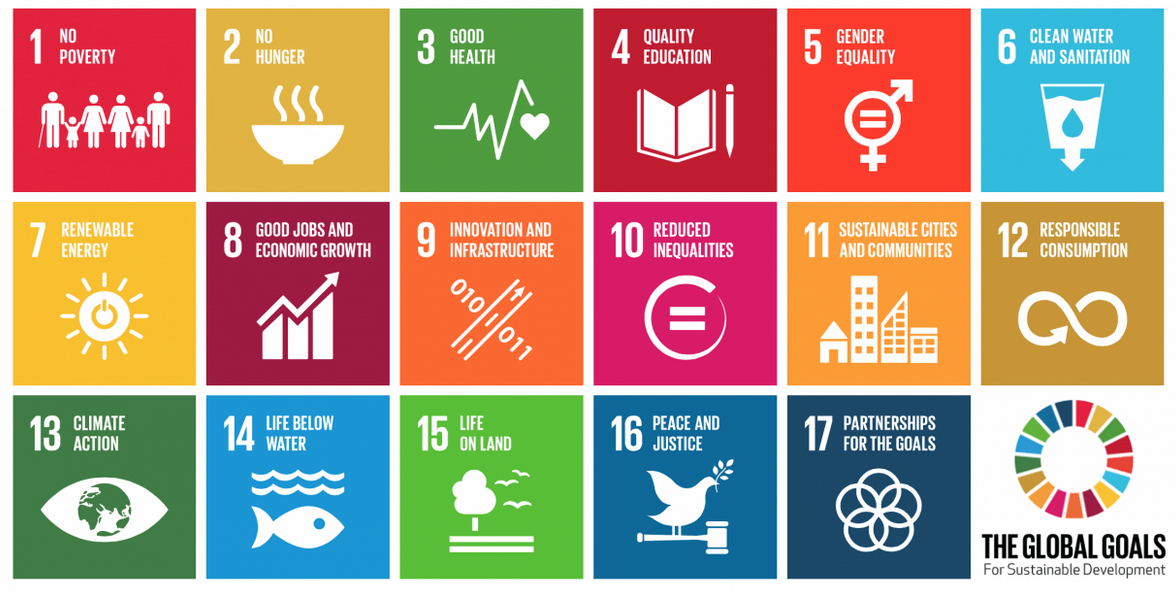 If you got more than half of the SDGs, good on ya, mate! The United Nations SDGs are a set of 17 interconnected goals designed to end poverty, protect the planet, and ensure prosperity for all. Many companies, NGOs, and governments use them as a framework to focus and benchmark their social and environmental impact in concert with others globally. Developed in 2015, the originally envisioned end point to achieve these ambitious objectives was 2030. Tick, tick, tick...
---
Have an interesting social impact tool, idea, or trivia question you'd like to share? Reply to this newsletter and let me know - I'd love to hear about it. You can also hit me up at rstoddard@oliverrussell.com.
Also - please don't hesitate to forward this to a friend you think would benefit from it - thank you!
701 words