When Solar Plays Cornhole Everybody Wins
I went down a research rabbit hole the other day, dug around a bit, and eventually popped back up a through a corn hole into a field of agrivoltaics.
Agrivoltaics. New word to me – you?
Not impossible to derive the meaning through its simple compound components, agrivoltaics (aka agrisolar, agriphotovoltaics, dual-solar) is the simultaneous use of land to grow crops and harvest solar energy.
Agrivoltaics was pioneered in Europe and Africa in the early '80s. The trick is to balance the two interests, crops and solar energy, as both left to their own devices will compete for sunlight. Sometimes this means a small tradeoff in crop or energy yield - though other times the smart use of shade from the solar panels can be complimentary, actually increasing crop yields.
What really turned my head was an article last year in pv magazine about the idea of transitioning farms growing corn for ethanol fuel into solar farms that also grow food for the human gut, not the combustible engine. Solar panels produce 200 times more energy per acre than corn grown for fuel or to boost octane levels. The article does the math on this nascent field and its models demonstrate that if we turned the 40 million acres currently in production for ethanol corn into solar farms, we could generate 3-1/2 times the annual electricity needs of the United States. At the same time, you could grow food crops, say wheat or spinach, for instance. Pretty interesting to think about.
Ingenuity. I love the idea of agrivoltaics, mostly for its emphasis on complimentary plantings (seeds and solar panels) in a field of cooperation rather than competition. We need more of it, don't you think?
Godspeed, friends.
Russ
---
💬 Quote of the Week
"No one has ever become poor by giving." Anne Frank
---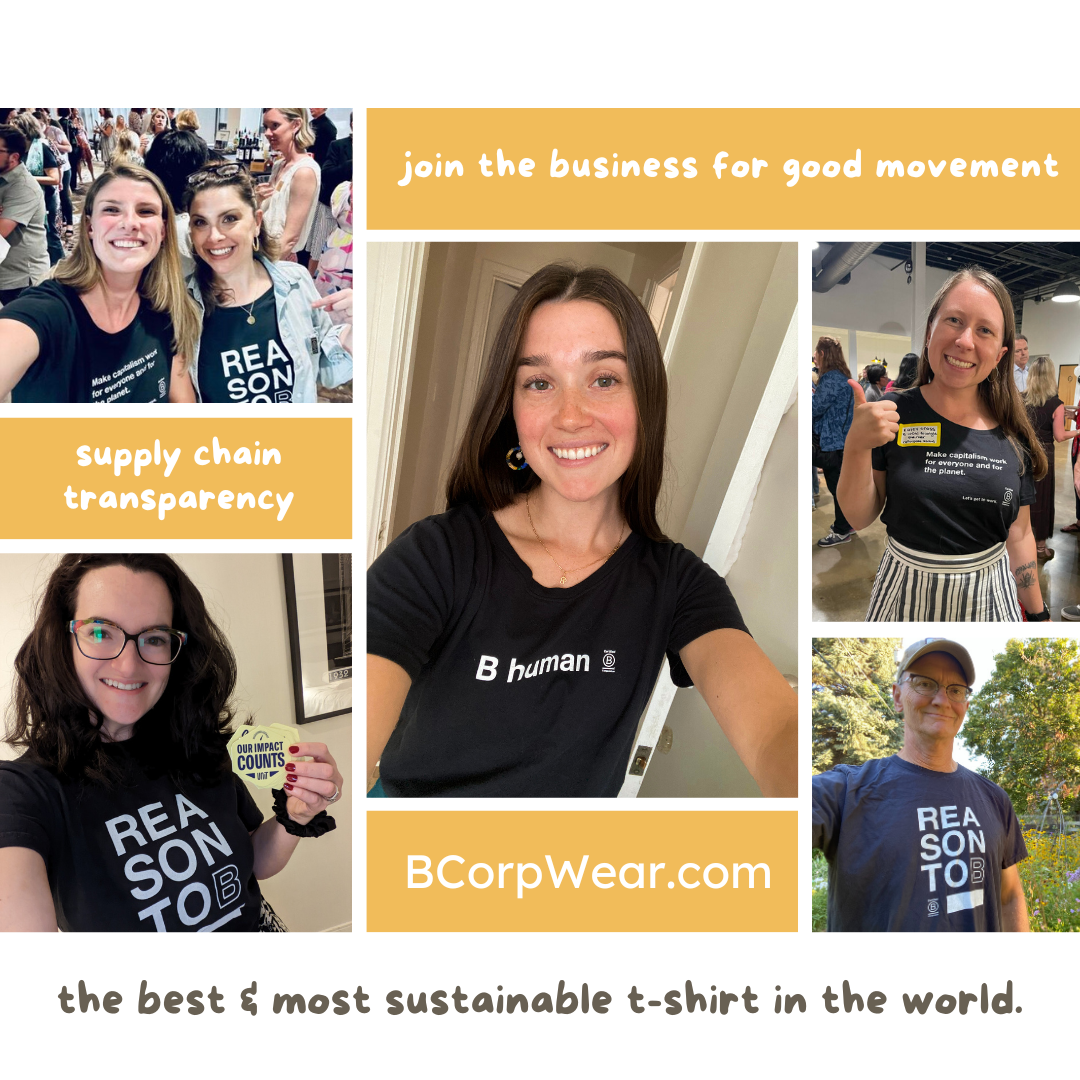 🛠️ Cool Tools - Holiday Edition 🎁
Spend your dollars wisely, sustainably, and consciously this holiday season. Here are some resources to help you.
• Corporate gifts that give back - Sending holiday gifts to clients, customers, employees, suppliers? Gifts for Good has a strong focus on corporate gifts, while Narrative Food, Sitti, and Simple Switch have both corporate and personal gifts. All of these companies give back to a cause.
• 10 gifts for a more resilient planet - Responsibly sourced products from B Corps that help create positive impact for the people who produce them and for the planet.
• Great gifts for the greater good - Impact-driven companies Brand Pollinators and Modern Species collaborated on an impact-driven gift guide with offerings for foodies, outdoorsy mothers, and more. View guide on their websites.
• B Corp Wear - These t-shirts, the best, most sustainable t-shirts in the world, celebrate the B Corp movement and give back to nonprofit B Lab via 1% for the Planet. A special 15% off for Godspeed members by using discount code Thankyou15 when you check out.
---
🤔 Trivia Time
Celebs like to burnish their stars (and fulfill their hearts) by aligning with good causes, increasingly by starting socially responsible companies. Your question today - which four of the following are fake - and which one is for real?
Britney Spears, "The Woman in Me," organic skincare products
Matthew McConaughey, "Just Because," nonprofit crowdsourcing platform
Pharrell Williams, "Bionic Yarn," textiles made from recycled plastic
Leonardo DiCaprio, "Carbonaut," carbon emissions calculator software
Sofia Coppola, "Earthy," a wine collection to benefit women's causes
Today's trivia answer can be found at the bottom of this newsletter.‌‌‌‌‌
---
Find the Most Meaningful Work of Your Career
This week our partner One Work contributed an article, Five Ways to Find a Social Impact Job. It's filled with great advice that's applicable to anyone - whether you're just starting out or a seasoned pro looking for a more meaningful career. As always, you'll be able to find a wealth of purposeful job opportunities on the One Work website.
---
Trivia Answer‌
The correct answer Pharrell Williams. And what makes him "happy"? 😉 Solving the plastic waste problem. The singer, songwriter, record producer, and fashion-house creative director co-founded Bionic Yarn, a material engineering company supplying the consumer and industrial markets with fully traceable, high-grade textiles and polymers, made with coastal and marine plastic.
---
Please consider supporting Godspeed and this community by upgrading your free membership to a small monthly contribution or annual subscription. 🙏